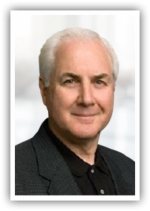 Meet Dr. Richard Werner D.C.
An Experienced Houston Chiropractor
By combining a series of modern rehabilitative techniques, Dr. Werner has been able to help thousands of people get over a diverse range of bodily pains and conditions so they can become healthy and happy again. Dr. Werner sees the human body as self-healing and self-sustaining.
Our Chiropractic Wellness Services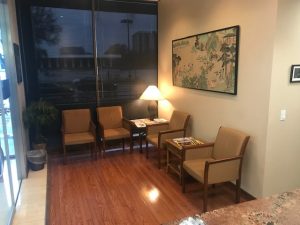 The Very Best Chiropractic Care in Houston, Texas
Call (713) 528-8800
Dr. Richard J. Werner is considered by many as one of the best Chiropractors in Houston, with over 35 years of experience practicing the chiropractic industry's core chiropractic treatments. Your body is always talking to you, but if you're not in tune with it, then you could be missing out on some critical clues about your health. If you live in the Houston area, you may need the help of an experienced, qualified chiropractor to help you regain good health and wellness
Pain Relief Using Chiropractic Techniques
Dr. Werner can bring back health and wellness to your musculoskeletal system. Using only the latest holistic approaches.  He and his team will work to address any health problems you are presently suffering from.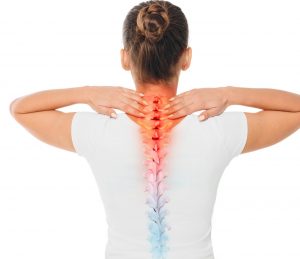 • Do you have back pain?
• Do you experience neck pain?
• Do your legs hurt?
• Have you suffered a sports injury?
• Did you injure yourself working out?
No matter where you hurt – no matter the reason for your pain – Dr. Werner is a trusted and well- respected chiropractor dedicated to ensuring people feel happy and healthy once again.
Why Should You Choose Dr. Werner?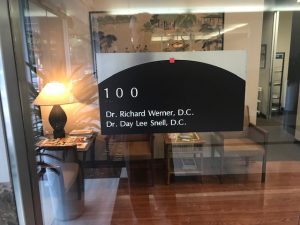 If you have suffered from chronic pain from an injury, you want the best results – ones that last for a long time. To get this, you need someone you can trust – Dr. Werner that has worked in the industry for decades practicing in the Houston area.
Most people understand that chiropractors will treat asymptomatic pain, but a qualified, experienced ones like Dr. Werner will go deeper to address the root of it all.
With over 30 years of experience serving the Houston area (Upper Kirby, Greenway Plaza, Houston, Bellaire etc.), He will go beyond asymptomatic pain. In fact, he will learn why the pain is occurring in the first place.
How We Approach Chiropractic Care
The key is to ensure your spine is healthy, flexible and functional. Most chiropractic care is geared toward diagnosing and treating problems in the spine and the rest of the musculoskeletal system.
We focus on offering an integrated, holistic approach to chiropractic care. With this kind of focus, you can see faster results, feeling better much more quickly than previous methods used. That's the commitment of his team – to ensure you feel more like yourself as soon as possible.
The approach Dr. Werner uses includes bringing natural philosophies together with modern technologies offered in the field – all with the purpose to help you treat your pain and the underlying cause of it. He and his team will work proactively to rid you of the discomfort you feel; a technique they have used to garner them the reputation for being one of the best chiropractors in Houston, Texas.
What Pain Therapy Does Top Chiropractor Dr. Werner Bring to His Patients?
Werner has offered his chiropractic services to the public in and around the Houston, Texas area. He has worked on school athletes, college athletes and even professional athletes – helping them all to feel their "natural" selves. He has also worked with many well-known dance groups – Dominic Walsh Dance Theater and the Houston Ballet.
He even helps busy moms get back to their busy lives, running households and working. He also specializes in family chiropractic care – from pregnant and nursing mothers, babies, children, teenagers, dads, moms and grandparents.Pain tr
Arm pain

Back pain

Headaches

Leg pain
Neck pain

Sciatica

Shoulder pain
The practice focuses on various techniques from chiropractic manipulation, massage therapy, rehabilitation, spinal decompression and other physical medicine treatments.
No two conditions are the same, and a treatment that works for one may not work for another. Therefore, Dr. Werner and his team will come up with an individualized treatment plan that focuses on your problem and ensure effective results.
No matter why you are looking for a holistic pain relief treatment – be it a sports injury, workplace accident, vehicle accident, spinal injury, frozen shoulder, musculoskeletal issues or chronic pain – you need help. Dr. Werner will tailor a treatment plan that is right for you.
Once a plan of action has been created, he'll work around your busy schedule to ensure your body gets the best chiropractic care it needs to feel healthy once again. With Dr. Werner on your side, you no longer have to worry about back or neck pain or be concerned with a sports injury causing you undue discomfort and poor posture.
What Other Chiropractic Conditions Do We Treat?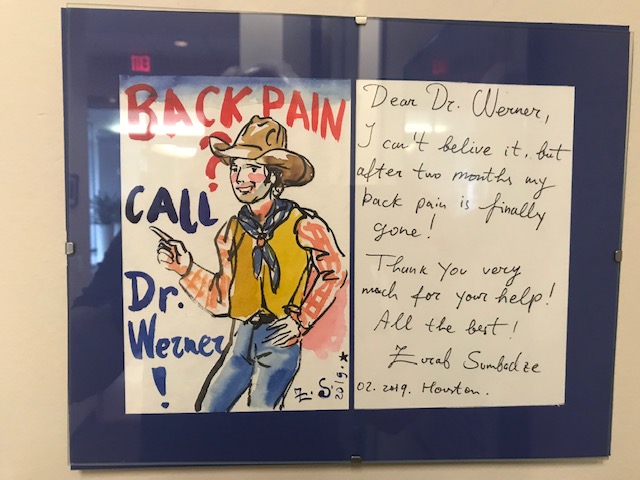 Bulging or herniated discs
Why Choose Houston Chiropractor Dr. Richard J. Werner DC?
Dr. Werner's vast knowledge of how the brain, spinal cord and network of nerves helps him to give his patients the best care they deserve. This knowledge and experience have proven to lead to effective specialized chiropractic treatments for a plethora of conditions, aches and pains.
As is a member of leading medical associations, Dr. Werner has been a featured speaker and guest lecturer at many engagements in schools, clubs, health centers, corporations, etc. He has partaken in various philanthropic activities with the Easter Seals. He also has numerous post-graduate certifications – evidence of his capability and experience. Dr. Werner's accolades are well-known in the community, which is why he's considered the best chiropractor in the Houston, Texas area.
Schedule An Appointment Today for Your Pain Relief
No matter your reason for an office visit – be it for maintaining your good health or recover from an injury – Dr. Werner and his team will work with you to develop a customized plan to make it happen. It's time you got the pain relief you deserve and began to live well.
We accept all kinds of health insurance plans, including but not limited to:
Blue Cross Blue Shield
Humana
United Health Care
You don't have wait and try other medical options before calling one of the best Houston Chiropractors. If you have suffered an injury due to an accident, you need a doctor with plenty of experience and the right knowledge to get you back to where you want to be. All you need to do is give his office a call at 713-528-8800 or visit our office to set up an appointment.
Stop suffering from pain today, trust your care to a top local Chiropractor, Dr. Richard J. Werner DC!
Call Us Today! (713) 528-8800