6 Primary Ways You Can Avoid Suffering From Back Pain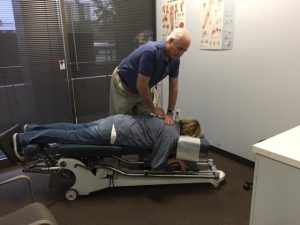 Houston Back Pain Chiropractic Services by Dr. Richard J. Werner DC.  When it comes to backaches, everybody has had them – some aches worse than others. It can happen in the lower back region, in the upper back that hurts the shoulders as well, etc. When you have back pain, life can be difficult to get through.
If you don't want your back pain to take you out of the game, you need to avoid it initially. What can you do? Dr. Richard Werner offers six tips to help you to prevent unnecessary back pain.
6 Tips To Help You Avoid Back Pain 
For Optimum Health – Get Regular Exercise
The easiest way in which to prevent back pain is to get regular exercise. Of course, you need to make sure that any weight lifting you do is done correctly and within an amount you can feasibly lift without injury to your back.
Exercising can improve your strength, core, heart and general wellness. You want an exercise that increases your heart rate for up to 30 minutes – something cardio exercises can do. Focus on the HIIT aspects of exercise to raise your heart rate.
Avoid Bending While Lifting
It doesn't matter what you are trying to pick up; never, ever bend your back to lift it. You want your back to stay straight and your knees to bend. Your legs should do all the work. You also don't want to twist when lifting and carrying a heavy object. Believe it or not, 10 pounds is enough to injure your back if you're not picking up and carrying properly.
Get Up and Move Around
The human body was designed to stretch, bend and move around. If your job has you sitting down for much of the day, make sure to get up every 20 to 30 minutes to stretch. You can also do exercises in your chair to benefit your back and other muscles.
Have An Ergonomic Chair
The kind of chair you have at work should support your back as you sit. Can you adjust it? Will the base slide or tilt? The key is to keep your thighs nearly parallel with the floor, with the knees a bit lower than the hips. Your arms should be flat with the desk with your shoulder, neither lower nor higher than the arms.
Purchase A Comfortable Mattress and Pillow
When you're in the market for a new mattress or mattress pad, you don't need one as hard as a brick. It's always a good idea, when shopping for a mattress, to try several out before you buy it. You want a mattress that gives support to both your shoulders and hips.
Also, consider buying an orthopedic pillow to ensure your neck stays straight when you lay down on your side. If you're a back sleeper, these pillows can maintain the necessary curve to avoid back pain in the morning.
Don't Sleep On Your Stomach
Besides getting the right kind of mattress and pillow, you need to be mindful of how you sleep. If you sleep on your stomach, you can actually twist the spine and put excess pressure on the neck muscles. It also flattens the spine's natural curvature.
If you're used to sleeping on your stomach, it'll take some time to sleep comfortably in other positions – side or back sleeping. However, once you become accustomed to it, your spine will get healthier, and you'll experience less back pain.
If you experience back, neck and shoulder pain at any time, you can visit Dr. Werner's office to start a treatment program. All you need to do is give him a call to set up an appointment to get the respite you need. You don't have to live with back pain any longer. Pain relief – Houston back pain chiropractic services serving Houston, Upper Kirby, Bellaire, West University and Greenway Plaza.
For more information or to schedule an appointment call (713) 528-8800